Micro vs Macro Real Estate Economy
There have been a lot of predictions on what the 2023 real estate market will bring. And like most predictions they are looking at the real estate market through macro glasses, the entire nation. But real estate is a local economy more than most other economies and really should be focused on in the micro sense.
So what market should you pay attention to? The real estate market in your city? County? Zip Code? Neighborhood? YES! All of those are important? Why? Because when you buy or sell real estate you are pricing your asset to be in line with what buyers are looking for. Most buyers are looking in multiple neighborhoods etc – so what is your competition? This is what affects your value.
The Austin Real Estate Market
In general the Austin Metro market is still experiencing appreciation, growth and buyer's are indeed still buying. We had a slow down after July 2022 but it's heating back up.
In 2021 we experienced a 30% appreciation in home values. In 2022 we had a 4% appreciation. Year over year our average appreciation is roughly 7%. So after an outlier of a year we could be returning to the appreciation rates we were previously accustomed to. (FHFA appreciation chart, available upon request).
Currently I'm hearing of multiple offers again in some markets while other markets are much cooler.
New build is offering incentives again to both buyers and REALTORS®, which reflects a slower market for new construction. I am seeing better deals for buyers in many areas with re-sell and I wonder if this is affecting the demand for new construction.
I am seeing price adjustments like crazy and will be watching various markets as we head into spring to see if this trend continues.
Why price adjustments? Buyer's have grown leery of paying higher prices given interest rates have gone up. Seller's are unsure of where to price their home given the data for the past two years has reflected a different market.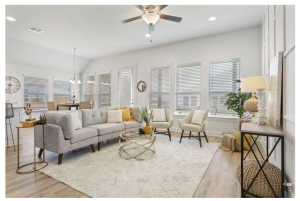 The lesson to buyers, don't be afraid to negotiate! The lesson to seller's, pay attention to what properties are actually going under contract and don't be afraid to adjust your price if need be.
Another lesson to sellers – make sure your price accurately reflects the condition. I'm seeing a lot of expensive wet dogs on the market, expensive simply because the price is high for what repairs need to be made. Buyer's are shying away from these homes and they are sitting on the market. We no longer are living in the days where anything will sell. Price and condition are more important now than ever. And keeping the home in show ready condition is truly important to buyer's that now have time and choices.
There is always room for a buyer that wants to buy and a seller that wants to sell! There are always opportunities to thrive in any market! Curios about what opportunities you can take advantage of? Contact me to set up a consultation.